new home . new hope
THE  VOICES FOR THE VOICELESS
When the Washington Area Humane Society began the New Home, New Hope capital Campaign 2.8 million was already received from bequests and restricted for the new building. Another $300,000 was granted from the Local Share Authority. The goal of the New Home, New Hope Capital Campaign was to raise the remaining 1.5 million to cover the 4.6 million dollar project. This goal was realized in less than one year.  WAHS is forever thankful to 750 donors who donated on behalf of the voiceless animals in Washington County.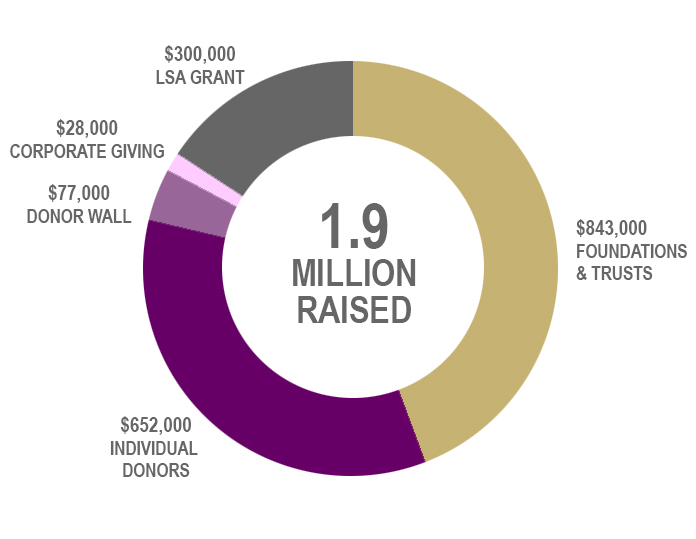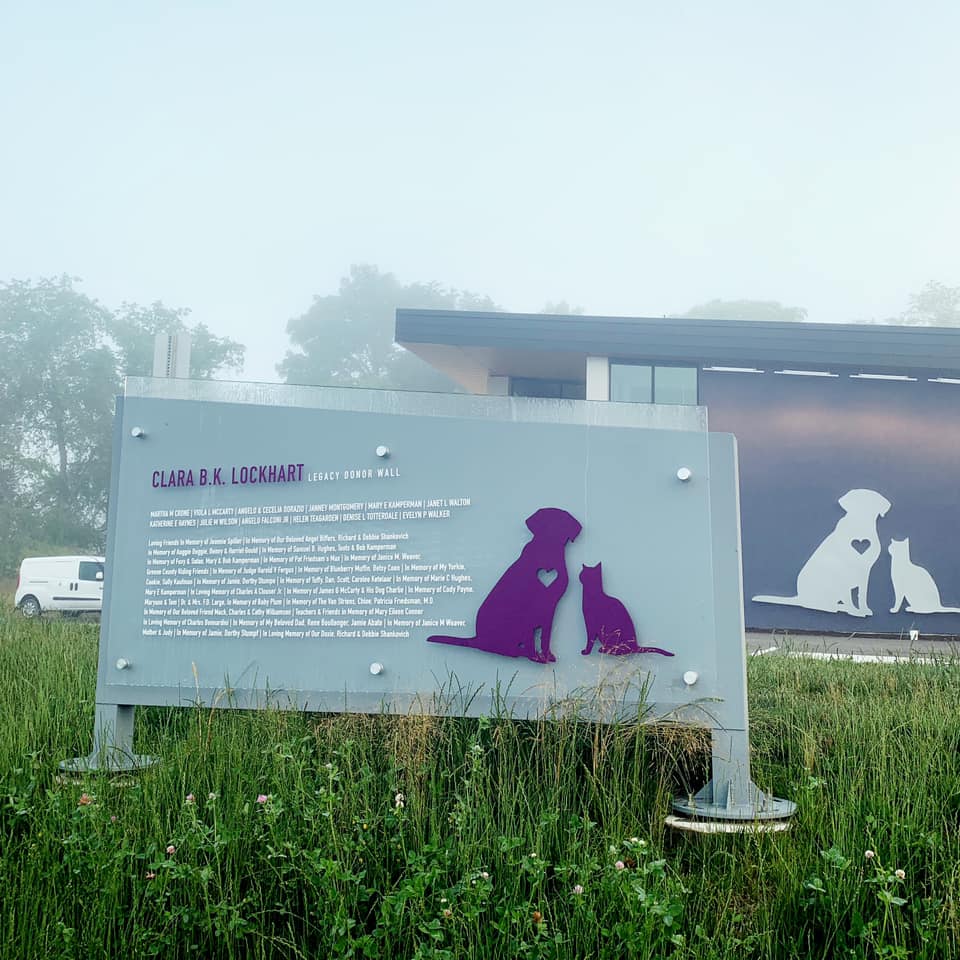 THANK YOU to our voices
Click on the tabs below to see the full list of donors in each category.
FOUNDATIONS
Anonymous Trust
Jack Buncher Foundation
Peterson Family Foundation
PNC Charitable Trust, Thomson Foundation
Richard King Mellon Foundation
The Angelo & Cecelia Dorazio Fund of WCCF
The Margaret Raphael Foundation
The Michele and Agnese Cestone Foundation
The Vernon C Neal and Alvina B Neal Foundation
The Washington Financial Charitable Foundation
The William F. Gauss & Lynn D Gauss Foundation
Washington Community Foundation Capacity Grant
Washington County Local Share Application
DONORS $5000+
Allan Tylka
Ami Andy Hillebrand
Annoymous Donor
Angelo Falconi Jr.
The Frank & Athena Sarris Family
Audra Andy
Dr. & Mrs. David Mittell
David Kassekert
Erin E. Andy
Glen Thomson & Teresa Salamone
James & Jodi Shamlin
James & Karen Cropp
James Mortimer
Joyce Mayernik
Kelly & William Proudfit
Kym Secreet
Lesley Brock
Paula Mungai
Range Resources
Ronald D. Siegel
The Guido Family
The Salvitti Family
Thomas & Karen Hoffman
Comtech Industries, Inc.
Timothy & Teri Dunlap
Tom and Joanne Pust
William & Sandy Stout
DONORS $1000-5000
Alpine Senior Bowling League
Anthony Lewandowski
Ashley Wells
Baker Waterproofing
Barbara Fragrasso
Betsy Griffith
Brian and Peggy Johansson
Chelsei Fleegal
CNX Resources Corporation
Corinne Grady
Dan Johnson
Dana Oliverz
Danica Skokut
Dennis Stoner
Dianne McClelland
Don Stark
Donald Wacker
George Sellers
Gloria & Bob Willis
Gordon Food Service
James Jenkins
Jarol G DeVoge
Jarrod & Tiffany Takah
Jennfier Vito
Jennifer Craig
Jessica Salko
Jessica Wilkeson Design Studio
John Kacsuta
John Steggles
Judith Phillips
Kathryn Duffill
Kim Clakson
Kimberly D. Thomas
Larry Myers
Lynn & George Aspiotes
Maggie's Farm Rum Distillery
Maranda Coombs
McCune Family Fund
Meadows Standardbred Owners Association
Melody Fujimoto
Michelle Dougherty
Mindy Zatta
Mr. & Mrs. Paul Trozzo
Nancy & Jim Proudfit
Pam & Don Robinson
Patty DeThomas & Dennis Mitchell
Paul A. Good
Pershing
Rachel & Jim McCune
Rita M Cole
Robert Barton
Ronald Cianelli
Scott & Emily Wottrich
Slovenian Savings & Loan
Stuart Redshaw
Susan Marshall
Susan Nickler
T.H. Anderson
The Fortney Family
The Suhoski Family
Timothy Brace
Valerie Porter
Walter Turner
Washington Chamber of Commerce
Zachary Susko
Donors $1-$1000
Adam and Barb
McDonough
Advanced Orthopaedics
Albert
Riske
Alberta
Beckett
Alex
Ruffing
Alice
Boyd
Alice
Shalosky
Alma
Sweitzer
Amanda
Kaste
Amanda
Lundberg
Amy
Braun-Bostich
Amy & Shaun
Hrutkay
Andrew
Mullineaux
Andrew
Roth
Andrew
Chiodo
Angela
Raitano
Angelo
Falconi Jr.
Angelos Restaurant
Anica
Rawnsley
Ann Marie
Kotlik
Anna
Zedel
Anne
Wandling
Arlene
Brauner
Ashley
Wells
Ashley
Macik
Audrey
Lindner
Audrey's Custom Draperies, INC
Audrie
Bartek
Avis
Zielinski
Barbara
Garry
Barbara
Noll
Barbara
Arblaster
Barbara
Miller
Barbara
Whiteacre
Barbara
Costello
Barry
Baltich
Barry
Winkleblech
Beinhauer Family Services
Belinda
Foreman
Benevity Community Impact Fund
Benita
Gillespie
Betsy
Arreola
Betty
Buoninconti
Betty H
Rainier
Beverly
Steele
Beverly
Spears
Bill & Dianne
Hitzfeld
Billie
Lewis
Blake
Quinlan
Bonnie
Mellinger
Brent
Fulton
Brittany
Campbell-Salazar
Calvin
Seibel
Carla
Ravenstahl
Carla
Dittrich
Carol
Jackson
Carol
Crafton
Carol
Harvey
Carol
Vereb
Carol
Peterson
Carol
Kinney
Carol
Hollis
Carol & Joel
Davis
Carole
Pavlo
Carole & Steve
Sisul
Carolee
Ketelaar
Carolyn
Sutherland
Carolyn
Pengidore
Carolyn
Idler
Carolyn
Campbell
Carolyn
Libert
Carolyn Sue
Dicks
Catherine
Harcharik
Catherine
Havelka
Catherine
McNary
Cathy
Schmieder
Cathy
Emanuelson
Chad
Snedeker
Charles
Lamberton
Charles
Robb
Charles
Nyswaner
Charles D.
Welch
Charlotte
Duffill
Charlotte
Fields
Charlotte
McGouldrick
Charlotte
Komar
Chartiers Crossroads Church
Chelsei
Fleegal
Cheryl
Campbell
Cheryl
Jones
Christa
Pfeiffer
Christina
Malinak
Christina
Perry
Christina Jane
Pihiou
Christine
McNeely
Christine
Scrivo
Christine M
Kelly
Christopher
Joniec
Chrome Federal Credit Union
Cindy
Good
Cindy & Michael
Ligman
Clarence
Kenney
Clarence
Gaffron
Clyde
Connelly
Cody, Krissy, and Peyton
Kuhns
Colleen
Urcho
Colleran & Company , CPA PC
Conrad and Gerrie
Rossetti
Craig
Cadonic
Dana
Schutte
Dana
Brunner
Dana
Provence
Daniel
Gabriel
Daniel
Koon
Darcy
Sucevich
Darin
Balliard
Darla Jean
Oziemblowsky
Darlene
Covol
Dave
Schultz
David
Stotka
David
Rocher
David
Dillman
David
Rusnak
David
Kitta
David
Bradstock
Dawn-Lynn
Fike
Deakin Painting
Deb
Paree
Debbie
Ecker
Deborah
Connell
Deborah
Ioli
Deborah
Zupan
Deborah
McGivern
Deborah
Rugg
Debra
Batey
Debra
Lucas
Debra
Geisler
Denise
Bandini
Dennis
McNamara
Dennis
Rodal
Dennis
Hottel
Dennis
Weakland
Dennis
Kostelich
Dennis & Margaret
Moran
Diane
Bushmire
Dixie-Lee
McKelvey
DL
Horvath
Dolly
Lynn
Dolores
Hess
Dolores
Cook
Dolores
Jennings
Dona
Curti
Dona
DeAngelis
Donald
DeAngelis
Donald
Morrison
Donald
Fink
Donald & Jarmila
Warhola
Donna
Rush
Donna
De Luca
Donna
Trbovich
Donna
Dickson
Donna
Uhrig
Donna & Bernie
Slezak
Doreen
Nicholson
Doreen
Leech
Dorothy
Hands
Dorothy
Firestone
Dorothy
Javorski
Dorothy
Walker
Douglas
Zywan
Duball
Cheri
E Judy
Omeara
Edward
Black Jr
Edward
Bickar
Eileen
Buckingham
Eileen and Leonard
Laabs
Elaine
Watson
Elaine
Johnson
Elaine
Kasper
Elaine
Schmader
Elizabeth
Crumrine
Elizabeth
Schmieler ITF
Elizabeth
Chipps
Elizabeth
Camody
Elizabeth
Martin
Ellen
Bobick
Emily
McCloskey
Emmanuel
Cruz
Eric
Saks
Eric & Paula
Reese
Erika
Seibel
Esther
Hill
Ettore
Fontana
Eugene
Eckman
Eugene & Marshann
Kulakowski
Evelyn
Inghram
Evonne
Somsky
Fidelity Charitable
Flora
Cursi
Fran
Winkleblech
Frances
Sweder
Frances
Golias
Francis
Celaschi
Francis
Kilinsky
Francis
Bekavac
Frank
Steiner
Frank
Papson
Frank
Gavlak
Franklin
Kuzy
Fred
Rapone
Gail
Kramer
Gail
Travis
Gale
Lorenzi
Gary
DelBianco
Gary
Naeser
George
Wyfker
George
Dougherty
George Ann
Goff-Ridge
Georgia
Vanderslice
Georgianna & Charles
Wilson
Geraldine
Lafergola
Gillian
Guiliani
Girl Scout Troop 51276
Glen
Thomson
Glenn
Hurley VMD
Gloria
Clark
Graham
Cowieson
Gregory
Zugec
Gwen
Gessler
Hartman and Hartman
Heather
Weaver
Heather
Quedenfeld
Henrietta
Boggs
Herman
Fry
Hidden Valley Animal Clinic
Hilda
Kudaroski
Hollie
Massung
Holly
Detts-Dranzo
Iva
Baldi
J
Waldrop
Jack & Candice
Burns
Jaclyn
Stewart
Jacob
Carter
Jacqueline
Carr
James
Slocum
James
Beidler
James
Ragan
James
Saunders
James
Immekus
James
Carroll
James and Cathy
Krebs
James and Joann
Bowen
Jan
Sylanski
Jane
Verno
Jane 
Dean
Janet
Sharp
Janet
Okarma
Janet
Moskal
Janet
Bauduin
Janet
Bof
Janice
Murdock
Janis
Stasiowski
Janis
Imhoff
Jean
Seneway
Jean
Spoeri
Jeanette
Steffick
Jeffrey
Walentosky
Jeffrey
Smith
Jeffrey
Askew
Jennifer
Beichner
Jennifer
Antooni
Jennifer
Piktel
Jennifer
Craig
Jennifer
Cross
Jerry
Newland
Jesse
Stenger
Jessica
Halsband
Jill
Eble
Jillian
Scola
Jillian
Debusk
Joan
Raymond
Joan
Stiefvater
Joan
Bish
Joan
Gaspersic
Joan
Gall
Joan
Kerr
Joan
Nock
Joann
Kiselich
JoAnn
DeCola
Joe
Barbella
Joe & Sheila
Uriah
John
Beel
John
Kennon
John
O'Connell
John
Lind
John
Holzapfel
John
Brandl
John
Hunt
John
Sartorio
John
Alterio
John
Freiwald
John
Hirsh
John
Hotarie
John
Dzura
John
Keirs
John and Denise
Shusta
Jon
Lantz
Joseph
Urbas
Joseph
Dobransky
Joseph
Dudas
Joseph
Armstrong
Joseph
Liparulo
Joseph
Kendra
Joseph
Chicchi
Joyce
Blackson
Joyce
Stankowski
Joyce
Barton
Judith
Maucieri
Judith
Heaps
Judith
Buckingham
Judy
Verno
Julie
Proudfit-Coleman
Julie
Kelley
Julie
Andrews
Julie
Kuna
K.J.
Butcher
Kali
Bloom
Karen
Snyder
Karen
Dzik
Karen
Sukel
Karl
Cherry
Katherine
Jursa
Kathleen
Politan
Kathleen
Voigt
Kathleen
Getman
Kathleen
Leone
Kathryn
Koskoski
Kathy
Sabol
Kathy
Hega
Kathy
Volk
Katie
Stayduhar
Keith
Fabi
Keith
Shader
Kelley
Suwak
Kelly
Gaitens
Kelly
Proudfit
Kelsey & Erik
Sevcik
Kenneth
Wetzel
Ken's Garage Doors
Kevin
Kuhn
Kim
Cook
Kimberly
Swinchock
Kimberly
Porter
Kristina
Bogovich
Kristy
Simms
Kyli
Martin
Kym
Secreet
Larry
Martello
Larry
Miles
Larry
Zimmerman
Larry & Carol
Carter
Laura
Ballein
Laura
Bradley
Laura
Bradley
Laura
Spivak
Laura
Perri
Lauren
Pirozzi
Lauren
Clark
Laurie
Reich
Laverne
Lawrence
LaVerne
Messina
Lawrence
Gregory
Lawrence
Malena
Leean
George
Leo
Stoy
Leonard
Sims
Lesley
Anthony
Linda
Jacobs
Linda
Klinkner
Linda
Chabricky
Linda
Wilkerson
Linda
Losee
Lindsey
Anderson
Lisa
Siconolfi
Lisa
Davis
Lisa
Livingood
Lisa
Conard
Lisa M.
Coulter
Loma
Parry
Loretta
Nicholson
Loretta
Grove
Lori
Holt
Lorraine
Bansavage
Louis
Sklinchar
Louis and Evelyn
Tarantino
Louise
McFall
Luci
Holbrook
Lucinda
Kerns
Lucy
Ingram
Lynda
Bunner
Lynn
Randolph
M.
Jeffries
Madeline
Thielet
Madeline
Chopp
Maggie
Stockert
Mandy
Coombs
Marcia
Medvid
Marcia
Zucconi
Marg
Bodnar
Margaret
Campbell
Margaret
McGovern
Margaret
Sawicky
Margaret
Straight
Margot
Latchem
Maria
Perez
Maria
Romesberg
Marian
Purzycki
Marilyn
McKinley
Marilyn
Dusmal
Marilynn
Hamilton
Mark
Swift
Mark
Bachmann
Mark
Davis
Mark
Litzel
Mark & Kimberly
Odonnell
Mark and Barb
Andredas
Marla S.
Dean
Marlene
Thomas
Marlene
Lewis
Marlene
McKay
Marlene
Kencec
Marsha
Knapik
Marsha
Chacko
Marsha
Ritenour
Marshall & Carol
Hanna
Martha
Moffitt
Martha
Milan
Mary
Kania
Mary
Schultz
Mary
Ramsay
Mary
Howe
Mary
Bedner
Mary
Vensko
Mary
Hunter
Mary Ann
Luginski
Mary Anne
Briselli
Mary Ellen
Shade
Mary Jane
Schafer
Mary Jo
Benedetti
Mary-Anne
Clark
Maureen
Mahoney Hill
Maureen
Yadlosky
Maxine
Berton
Mcminn
Walter
Melinda
Burkhart
Melissa
DeJohn
Melissa
Parker
Michael
Archer
Michael
Bonnet
Michael & Elizabeth
Bradwell
Micheline
Stabile
Michelle
Jackson
Michelle Ann
Duralia
Mittro
Wengryn, Jr. Family
Nancy
Romza
Nancy
Clarke
Nancy
Stahlschmidt
Nancy
MCCreight
Nancy
Kurowski
Nancy
Radomile
Nancy
Layton
Nancy
Huffner
Nanette
Stevens
Napa Auto Parts
Datoms, INC.
Neal & Sheila
Dow
Nicholas
Cecchini
Nicholas
Vecchio
Nicole
Zayac
Nikki
Patrina
Nina
Catanzarite
Pamela
Dimond
Pasqual
Olivo
Pat
Post
Patrice
Coleman
Patricia
Simonin
Patricia
Armfield
Patricia
Willoughby
Patricia
Barney
Patricia
Smith
Patricia
Cecere
Patricia
Wilson
Patricia
Roupe
Patricia
Orangis
Patricia
Flanigan
Patrick
Alterio
Patrick
Stefanov
Paul
Hauser
Paul
Dolinar
Paul
Phillips
Paul
Conley
Paula
McNerney
Paula
Arnold
Paulette
Godla
Phyllis
Lersch
Phyllis
Vogt
Phyllis
Moore
Rana  Grossman
Tonti
Randall
Kohler
Ray
Niccolai
Raymond & Dr. Kathleen Ann
Harrington
Rebecca
Biddle
Rebecca
Fortney
Rebecca
Cozza
Regina
Johnston
Regina
Livelli
Renae
Gress
Renee
Grudowski
Rich
Neill
Richard
Skowvron
Richard
Weaver
Richard
Turocy
Richard
Wottrich
Richard
Demski
Richard
Brytus
Richard
D' Antonio
Richard
Gaydos
Richard
Luczko
Rita
Ritz
Robert
Riley
Robert
Watson
Robert
Umstead
Robert
Scott
Robert
Azman
Robert
Petritis
Robert
Howanec
Robert
Williams
Robert
Coatsworth
Robert
Stetor
Robert & Amy
Momeyer
Robert and Jacqueline
Brandt
Robert T
Johnston
Robin
Folmar
Roger
Horton
Ron
Oda
Ron & Velvet
Czarnecki
Ron and Patsy
Brandt
Ronald
Anthony
Ronald & Carol
Leech
Rosemary
Fincham
Rudolph
Basta
Russ
Bershok
Russell
Rosendale
Russell
Piper
Ruth
Latta
Ruth
Bovalina
Ruth
Blose
Ryan
Leonard
Ryan
Meyer
SaintThomas Episcopal Church
Sam
Beere
Sandra
Rahuba
Sandra
Costa
Sandra
Willett
Sandra
Phillips
Sandra
Reynolds
Sandy
Harkless
Sara
Phillips
Scott
Chambers
Scott
Alexander
Sharon
Francis
Sharon
Dubiel
Sharon
Ray
Sharon
Valicenti
Sharon
Laffey
Shaun
Urcho
Shawn
Ressman
Shelly
Petronie
Sherran
Slaska
Sherry
Kelly
Sherry
Darney
Shirley
Pozar
Skip
Cochran
South Park Mobile Estates
Stacy
Keremes
Stanley
Stavish
Stephanie
Claypool
Stephen
Davis
Stephen
Hvizda
Stephen & Shari
Musser
Steven
Wagers
Sue
Jenkins
Sue 
Julos 
Susan
Stanko
Susan
Pointek
Susan
Thomas
Susan
Grubich
Susan
Schmitz
Susan
Pieczarka
Susan
Stead
Susan
Stanko
Susan
Coleman
Suzette
Gerolium
Sydney
Baber
Sylvia
Werner
Sylvia J
Bernassoli
T David
Zimmermann
Teresa
Swoager
Terry
Divelbliss
Terry
OBlock
The Berkshires Community Service Assoc
Theresa
Rhen
Theresa
Holman
Therese
Schmidt
Thomas
Contreras
Thomas
Scharf
Thomas & Linda
Cronin
Tiffany
Oden
Timothy
Hurney
Tina
Ezersky
Todd
Mickinak
Tom
Yantek
Toni
Sulkowski
Toni
McGowan
Tricia
Thaxton
Trudi
McAuley
Tula
Dziak
Tyler & Katie
Reeder
Valerie
Duplaga
Valerie
Farquharson
Valerie
Ashbaugh
Vickie
Porter
Victor
Davis
Victoria
McGraw
Victoria
Ferguson
Vince
Galloni
Vivian
Harbison
Walter
Wayne
Walter
Piroth
Wendy
Stark
Wendy
Johnson
William
Bush
William
Goodwin
William
Allison
William
Jones
William
Puhlman
William
McElhany
William
Frantz
William
Hitzfeld
William
Kernahan Jr
William
Bryar
William and Donna
Gaughan
William and Linda
Hill
William and Patricia
Clausi
Womans Club of Upper St. Clair
Your
Family
Zikomo
Bullock
Walmart